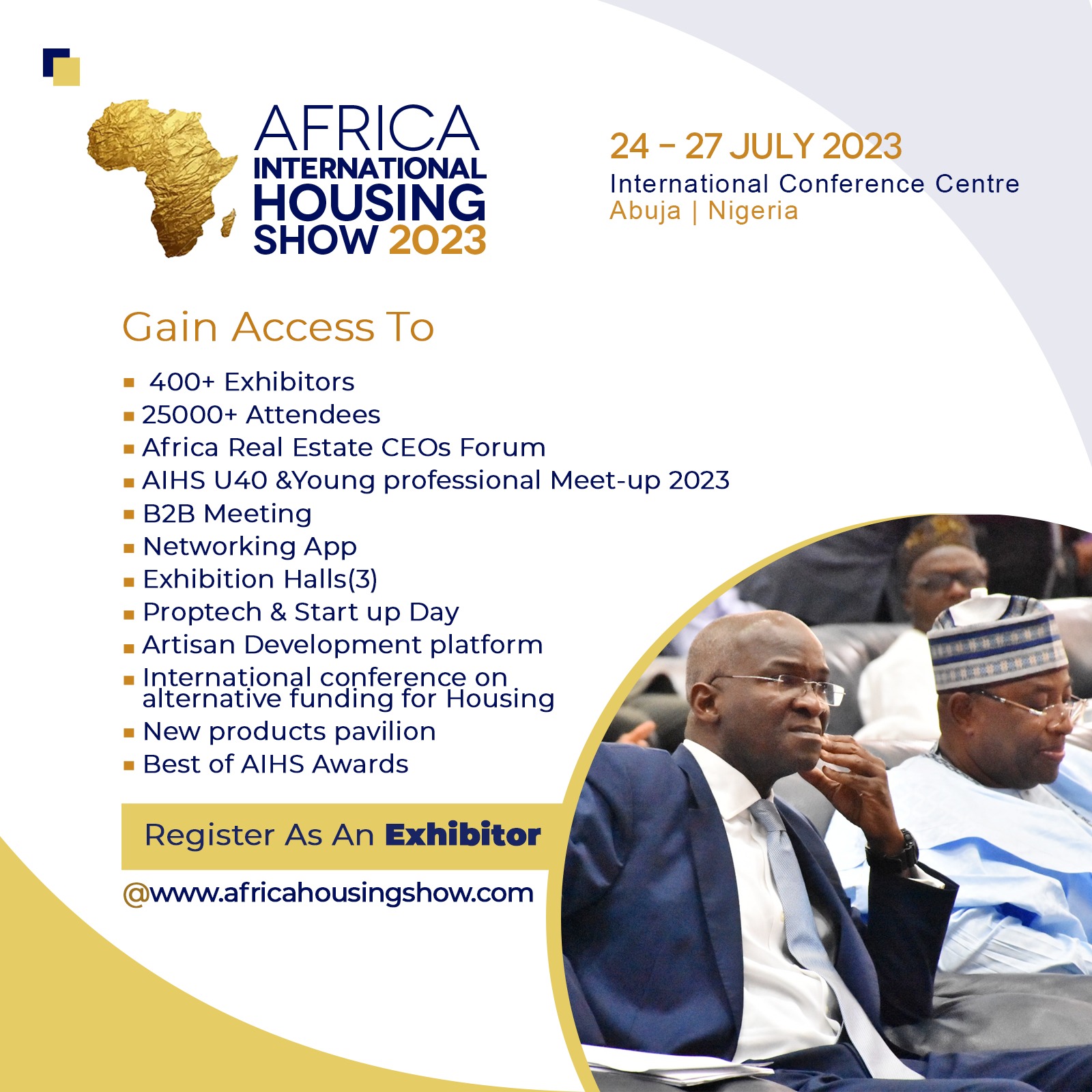 …The Leading Event Where Your Housing and Construction Dreams Come True
With passion and advocacy for the delivery of resilient and affordable housing in Nigeria and Africa at large, the Africa International Housing Show (formerly Abuja International Housing Show) was birthed over a decade ago with convincing track records in Africa's housing and construction sector. Its far-reaching effects on businesses and brands are evident in the testimonies of participants and beneficiaries whose businesses have experienced a paradigm shift and those whose housing needs have been met through its housing development strategies.
AIHS is an initiative of the International Housing and Construction Show Limited, Fesadeb Communications Limited, Housing Development Advocacy Network (HDAN) and Africa's foremost affordable housing advocacy network, real estate, award winning housing television program and media events hosting company.
Africa International Housing Show is a four days event for the development of the building and construction sector in Africa and the sealing of housing deals.
The Africa International Housing Show (AIHS) in its quest to respond to the many challenges faced by the poor and marginalized communities formed a not for profit organization known as the Housing Development Advocacy Network (HDAN), a leading advocacy group fighting for the basic human rights of people in a bid to promote affordable homeownership and access to decent shelter.
The Africa International Housing Show consists of Products Presentation, Exhibition of Building Technology for affordable housing from different parts of the world, home interiors, modern construction equipment, chemical and paints products, mortgage services, housing projects, interactive forums including the Number 1 CEOs forum with high net-worth participants. This is an in-person event like non-other. You can attend in-person from anywhere. The event connects international and local investors in the property and construction sector and also gives partners and businesses an opportunity to showcase properties and products.
Since inception, over N100 billion transactions have been done through the AIHS mega event, based on the testimonies and feedback received from those who have participated in the annual program. It's no gainsay that AIHS facilitates sales and profits.
As a way of digitalizing the event, AIHS has created a mobile application 'AIHS CONNECT' to provide a rundown of daily events at the finger tips of participants, connect participants to speakers, partners and exhibitors, and create deal room meetings and b2b meetings with banks, government officials, international financial organizations, etc for people to network and make sales.
The international conference hosts more than 30 international speakers and 400 exhibitors from about 21 countries with over 40,000 participants every year.
The event has featured Vice Presidents, Governors, Ministers, Legislators and Ambassadors of different countries, High Profile Individuals, Leading Housing Finance and Urban Development Industry Executives, Building materials and Home Investors, and many International Finance Agencies including International Finance Corporation (IFC), World Bank, and African Union for Housing Finance (AUHF).
Among the international experts who have participated in the conference are Debra Erb, Managing Director of Housing Real Estate Project Finance DFC, USA, Marja C Hoek-Smit, Founder and long-term Director of the International Housing Finance Program of the Wharton School Zell /Lurie Real Estate Center, and many respected Housing Finance Experts from Nigeria, USA, UK, Canada, Egypt, Pakistan, Kenya, Morocco among others.
AIHS takes a fresh approach to industry conversations, concentrating on thought leadership exchanges centered on ideas and innovations that can help the housing and construction industry rethink challenges and redefine strategies for dealing with them.
Every year, the Africa International Housing Show explores a new theme based on current issues in the sector and in line with the United Nations Sustainable Development Goals (SDGs).
It also engages political leaders and government on their housing and construction agenda for the people involving all professional bodies in the industry, and their regulatory bodies.
Africa International Housing Show brings together developers, investors, contractors, suppliers and buyers to debate, discuss and dissect recent events, interpret emerging trends and assess new opportunities in housing, construction, property technology, climate change and green building developments across major African cities and the world.
According to Mauro Guillen, renowned Wharton Professor of business innovation and strategy, "The only possible response to change is change itself". The year 2020 and the impact of the Covid-19 Pandemic has been globally resonating with the need for affordable taking center stage as an essential tool for protecting and preventing the spread of the pandemic both in emerging and advanced nations of the world.
As with previous health pandemics, the novel coronavirus is testing the crisis response capacities of countries and the resilience of key sectors of the economy. In the frontlines are health and housing. It is in view of the change that has been brought on by the pandemic that the AIHS theme of the 15th edition in 2020 examined "Sustainable and Resilient Housing Solutions for A Post Pandemic World."
The 2021 edition of the AIHS took an exploratory look at the various emerging solutions and strategic responses linked to housing finance and how these solutions could help Africa attain the delivery of affordable housing for all.
In 2022, AIHS explored critical issues like Impact, Sustainability, Inclusion, Population growth, Technological Innovation, Diversity, and Inequality. Given the backdrop of Nigeria's challenging macroeconomic landscape (economic decline and heightened security risk), the AIHS also evaluated Nigeria's housing financing and development challenges and opportunities for the present and future in line with global mandates and sessions.
AIHS 2022 had over 30,000 attendees from over 15 countries with no less than 34 speakers from different walks of life to discuss issues revolving around the theme of the event: 'Housing for All: The Role of Government in Creating an Effective Enabling Environment'.
The issue of affordability puts access to housing finance at the heart of resolving the housing crisis in Africa. For many western countries such as the USA, UK, a rough outline of the formula that has worked blends two major approaches. One is the implementation of social housing programs that are funded and subsidized by central governments to underprivileged citizens. The other is the creation of an enabling environment that encourages private sector investments in housing and the promotion of long-term mortgages as a path to homeownership.
AIHS has over the years underlie both approaches as a social need to eliminate the huge initial capital outlay that housing entails so that economically active citizens can own homes and pay conveniently over time.
At the Africa International Housing Show, discussions have brought into sharp focus the poor state of housing in the continent thus, questioning the scale of effectiveness of housing policies and governance. Low levels of investments in the provision of affordable housing across key segments of society have created a housing deficit. The AIHS and HDAN have continued their advocacy on the need to connect housing policy and development initiatives towards meeting the housing needs of low-income subscribers for increased impact.
The AIHS and its sister advocacy platform HDAN believe in a future where housing finance and development will factor social and environmental impact into all types of investment decisions across private and public sectors. In order to achieve this, the AIHS conferences and exhibition in 2023 at the 17th edition will be addressing the theme: 'Beyond Rhetorics to Homes: Making Housing Happen'.
It aims to promote discuss and engagement on the implementation of strategic affordability models in terms of access to land, mortgages, digital and technological innovation targeted at further development of the housing sector, and best practices and norms in the use of data to inform policy and investment decisions, increase impact in housing finance and curb real estate scam in Africa.
Over the years the Africa International Housing Show has been very promising, and its 17th outing would be even greater, impactful, and worthwhile.
This remarkable event gives you access to several INNOVATIONS including: 400+ Exhibitors; 40,000+ Attendees; Africa's One of a kind Real Estate CEOs Forum; AIHS U40 & Young Professional Meet-up to nurture the next generation of housing and construction ambassadors; B2B Meeting; Networking Opportunities; Exhibition Halls showcasing the best and most innovative products and services; Pro-tech & Startup; Artisan Development Platform; International Conference on Alternative Funding for Housing; New Products Pavilion and Best of AIHS Awards among other exciting offers.
If you have not registered for the 17th AIHS, do that today and have your housing dreams come true and your business moves to another level of productivity and accomplishment.
Join Africa's largest housing and construction expo today! Visit www.africahousingshow.com or Call +234 9165 0000 00.